TIPES UK (Introductin of TIPES II)
ETS System for the Future is TIPES! The Innovator of ETS-Systems
ETS System for the future is TIPES!
TIPES-UK
TIPES the innovator of ETS-Systems
The National Winning Loft
Tel: 017772 861478
"Coronation Queen"
Meritorious Award Winner 2007
Winner of 1st Section 1st Open
"The National Flying Club"
Cholet Race 472 miles 504 yards
941 members 6,798 birds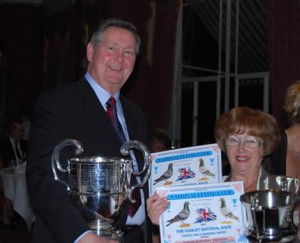 The National Flying Club Presentation Evening at Torquay December 2007.
Joe being presented with his trophies by
Judith Napolitano the wife of Carlo Napolitano

who is her Majesty the Queens loft manager.